Links zum Teilen der Seite überspringen
Euroregion Pomerania
"Euroregion Pomerania" notion concerns western part of historically understood Pomerania land – i.e. German Vorpommern (Fore-Pomerania) and Polish Pomorze Zachodnie (Western Pomerania).

Neighbouring Poland and Germany cooperate on many levels, but still there is a need for closer cooperation within specific common projects and ventures.
The answer for this need is a EU goal "European Territiorial Cooperation – Interregional Cooperation", whose participants are now: German Mecklenburg-Vorpommern and Brandenburg states and polish West Pomeranian voivodeship. It is a part of INTERREG Programme (community initiative European Regional Development Fund – ERDF).
Euroregion Pomerania currently covers a 35 500 square kilometer area on both sides of the Polish-German border - its combined population is approximately 2,4 million people.
Euroregion consists (as of 2014) of the following regions:
Polish Zachodniopomorskie (West Pomerania) Voivodeship
German districts of the Brandenburg state - Uckermark, Barnim and Märkisch-Oderland
German district of the Mecklenburg-Vorpommern state - Rügen, Vorpommern, Mecklenburgische Seenplatte
Euroregion Pomerania areas, besides structural links, have a lot in common in terms of historical, landscape and geological similarities. All of these regions are characterized by the glacial landforms, their economies are mainly agricultural, all are relatively under-populated. In the past, all these areas were dominated by big landowners estates. Tree avenues led to the manor houses and mansions – their owners established not only vegetable or fruit gardens, but also landscape gardens.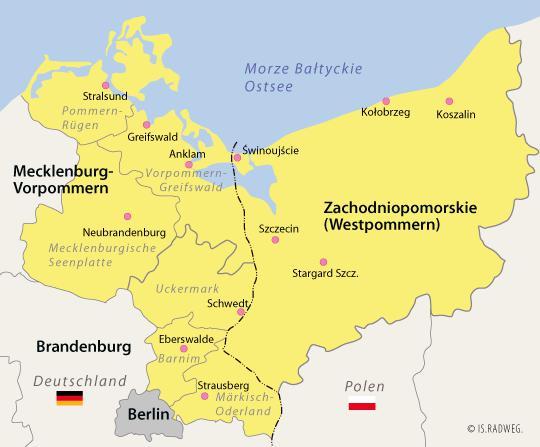 Euroregion Pomerania areas in the 2014-2020 years which are covered by the INTERREG V A Programme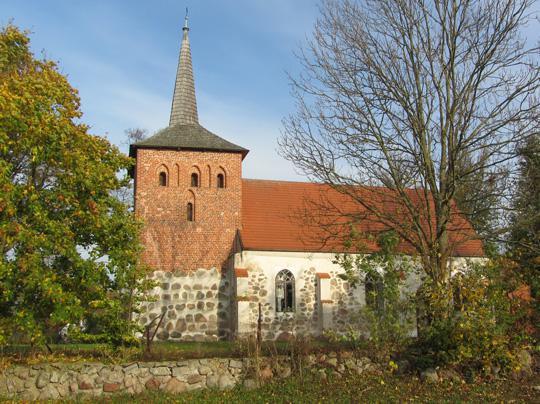 Church in Rusowo