Landscape Garden Network in the "Barnimer Feldmark"
Today, most of the manor gardens are in private hands or public property. In the second case, the town halls' infrastructure or construction departments are responsible for them.
In the past, service and development of the manor gardens was not a priority for local communities. But we have to remember that everywhere they occur, manor gardens have a big influence on local spatial order and tourist attractiveness. Their poor condition can easily spoil every local effort to improve the image of the region.
The Network of the Landscape Gardens in the "Barnimer Feldmark" region is to serve as a platform for private and public garden owners, and others involved in local development and environmental issues, for the mutual exchange of experiences and knowledge on the following issues:
Parks and gardens daily care and development
promotion and financing of the gardens development
Mutual support (practical and conceptual)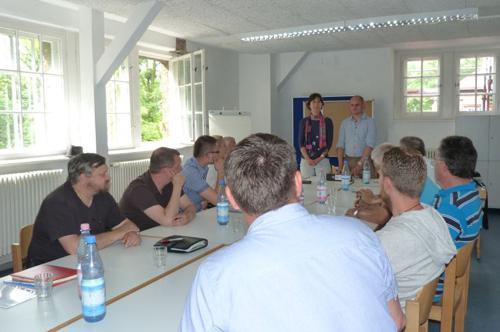 Project members' meeting in 2014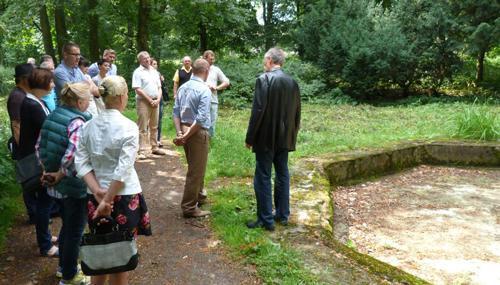 Mansion garden in Hirschfelde
Network members
Landscape Gardens' Network has the following members:
Urząd Gminy w Ustroniu Morskim
ul. Rolna 2 78-111 Ustronie Morskie www.ustronie-morskie.pl
Gemeinde Ahrensfelde
Lindenberger Straße 1 16356 Ahrensfelde www.ahrensfelde.de
Stadt Bernau bei Berlin
Stadtpark 1 16321 Bernau www.bernau-bei-berlin.de
Gemeinde Hoppegarten
Lindenallee 14 15366 Hoppegarten www.gemeinde-hoppegarten.de
Stadt Werneuchen
Am Markt 5 16356 Werneuchen www.werneuchen-barnim.de

Gemeinde Sydower Fließ
c/o Amt Biesenthal-Barnim www.sydower-fliess.de

Amt Biesenthal-Barnim
Berliner Str. 1 16359 Biesenthal www.amt-biesenthal-barnim.de

Stadt Altlandsberg
Berliner Allee 6 15345 Altlandsberg www.altlandsberg.de

Regionalpark Barnimer Feldmark e.V.
Am Bahnhof 2 16356 Ahrensfelde OT Blumberg www.feldmaerker.de

Dr. Rainer Zeletzki Privatperson, Landschaftsplaner